FLEXFLOW™ INDUSTRIAL AUTOMATED SPRAY SYSTEMS
Precision Spray Control for Coating, Lubricating, and Moistening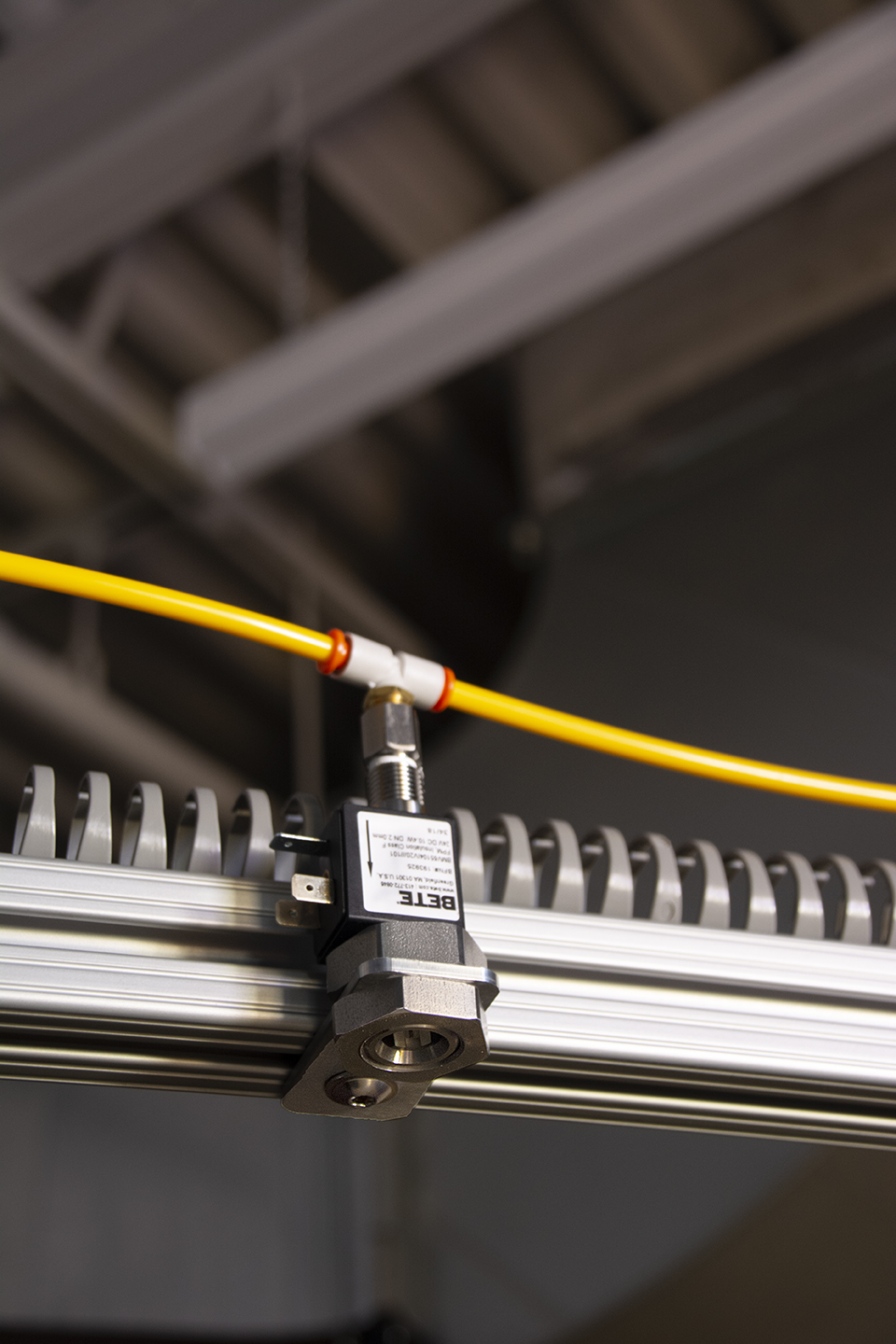 Improve Quality and Reduce Waste with Precise Spray Control and Flexible Automation
BETE's FlexFlow Spray Systems ensure precision control and flexible automation for our Industrial Electric HydroPulse® and other automatic spray nozzles.
These plug-and-play controllers are a sophisticated solution for precision coating, moistening, and lubricating applications where intermittent spraying will improve product quality and reduce waste.  Our FlexFlow Spray Systems are UL/ULC and CE approved.
Discover uniform coverage to address problems with over-application and under-application of costly chemicals. Each control panel can be used as a standalone system or upgraded to the 2000 model to integrate with your existing plant operations.
Automatic Nozzles and Systems for Precision Spray Control
FlexFlow Catalog Datasheet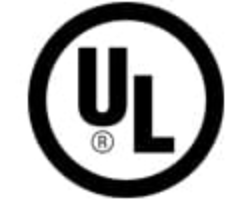 HMI touch screen includes intuitive operations for streamlined control. and diagnostic overview for troubleshooting.
Operate up to 12 nozzles.
Two zones of precision control:
Operate up to 6 nozzles in each zone
Zones 1 and 2 can be programmed with independent or synchronous settings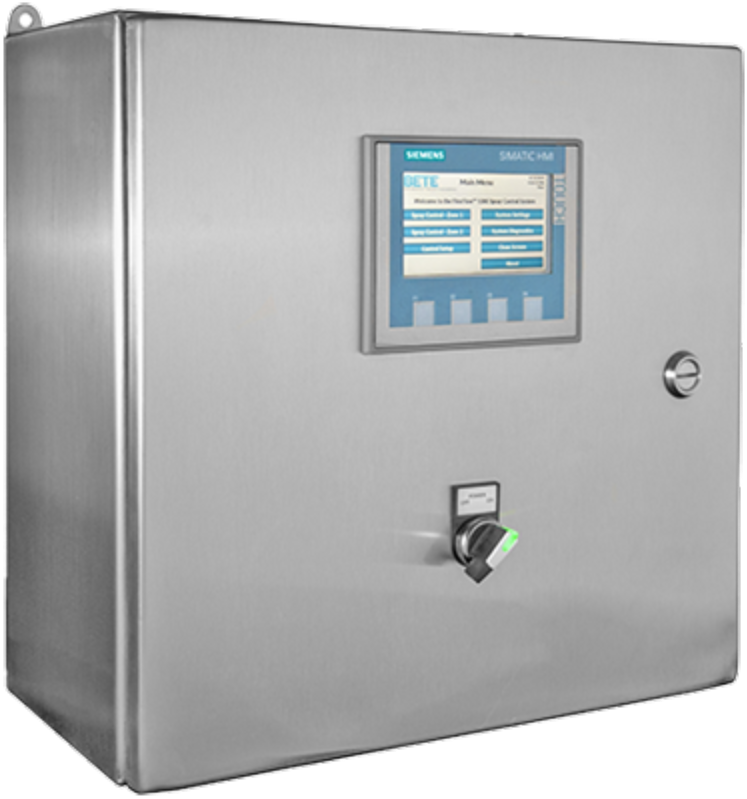 The FlexFlow 2000 offers ultimate system flexibility by managing up to 20 spray nozzles in up to 20 independently controlled spray zones. With individual spray zone assignment for each nozzle, you can group nozzles into as many zones as needed to accomplish your spray process objectives.
HMI touch screen includes intuitive operations for streamlined.
Control and diagnostic overview for troubleshooting.
Match spray volume to conveyor speed with an auto-adjust duty cycle.
Ethernet port for process integration.
Extremely flexible in zone operations –can operate up to 20 nozzles with up to 20 triggers in up to 20 zones.
Three versions are available with an easy upgrade path:
Model 2010 operates up to 10 nozzles
Model 2016 operates up to 16 nozzles
Model 2020 operates up to 20 nozzles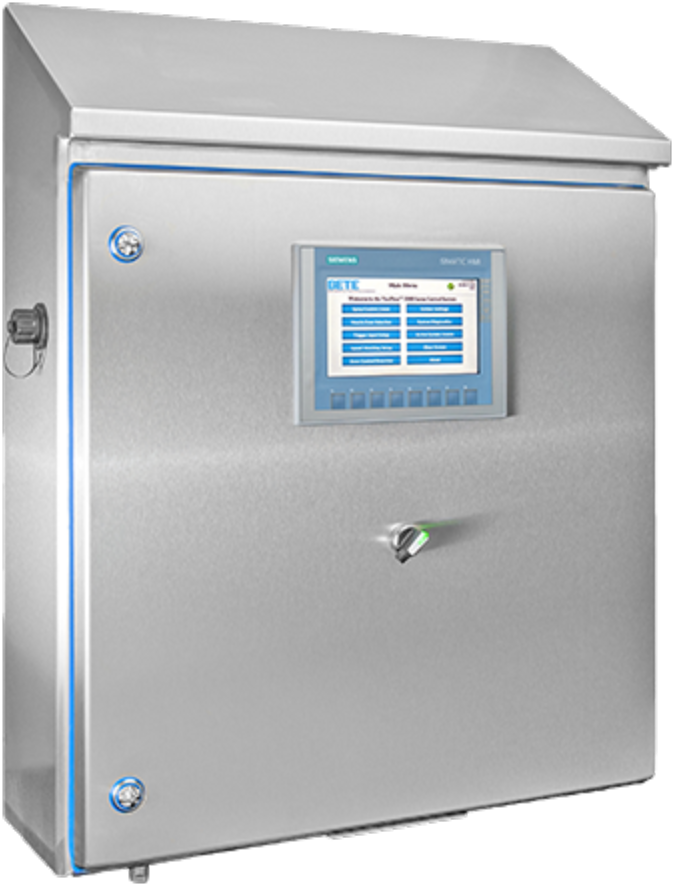 Electronic Spray Control Pulse Width Modulation (PWM)
The spray flow rate can also be electronically controlled by pulsing the sprays while adjusting the cycle's ON versus OFF dwell time ratio. Pulsing at high frequency allows the average flow rate to be adjusted while maintaining constant fluid supply pressure and the appearance of continuous, uniform coverage. This flow control process is known as Pulse Width Modulation (PWM).

ADDITIONAL FEATURES AND UPGRADES
The BETE FlexFlow™ spray controllers are standalone electrical control panels that provide user-friendly control of BETE Electric HydroPulse (EHP) series electric-actuated spray nozzles. Hygienic enclosure wall-mounts are an available upgrade add-on. A Siemens brand Programmable Logic Controller (PLC) and associated hardware operate the nozzles. Spray zones can be triggered manually, or they can be triggered automatically using digital inputs from process sensors. User-adjustable signal delays provide the most accurate spray timing functionality.
A touchscreen Human Machine Interface allows users to configure the spray system and adjust spray parameters through an easy-to-navigate menu of options. Adjustable parameters for each spray zone include nozzle cycle rate, duty cycle, trigger signal delays, and trigger state.
A cable gland plate comes standard with every FlexFlow control panel. Only pierce as many openings as needed through the membrane for easy access to field wiring.
SUBSCRIBE TO OUR NEWSLETTER