ENGINEERED SPRAY PROCESS SOLUTIONS THAT EXCEED
CUSTOMER EXPECTATIONS IN EVERY DETAIL
BETE is a pioneer in all areas of spray nozzle engineering, manufacturing, and
applications. The BETE difference is our unparalleled ability to respond quickly and
effectively to any spraying challenge, simple or complex, anywhere in the world.
Discover the BETE Difference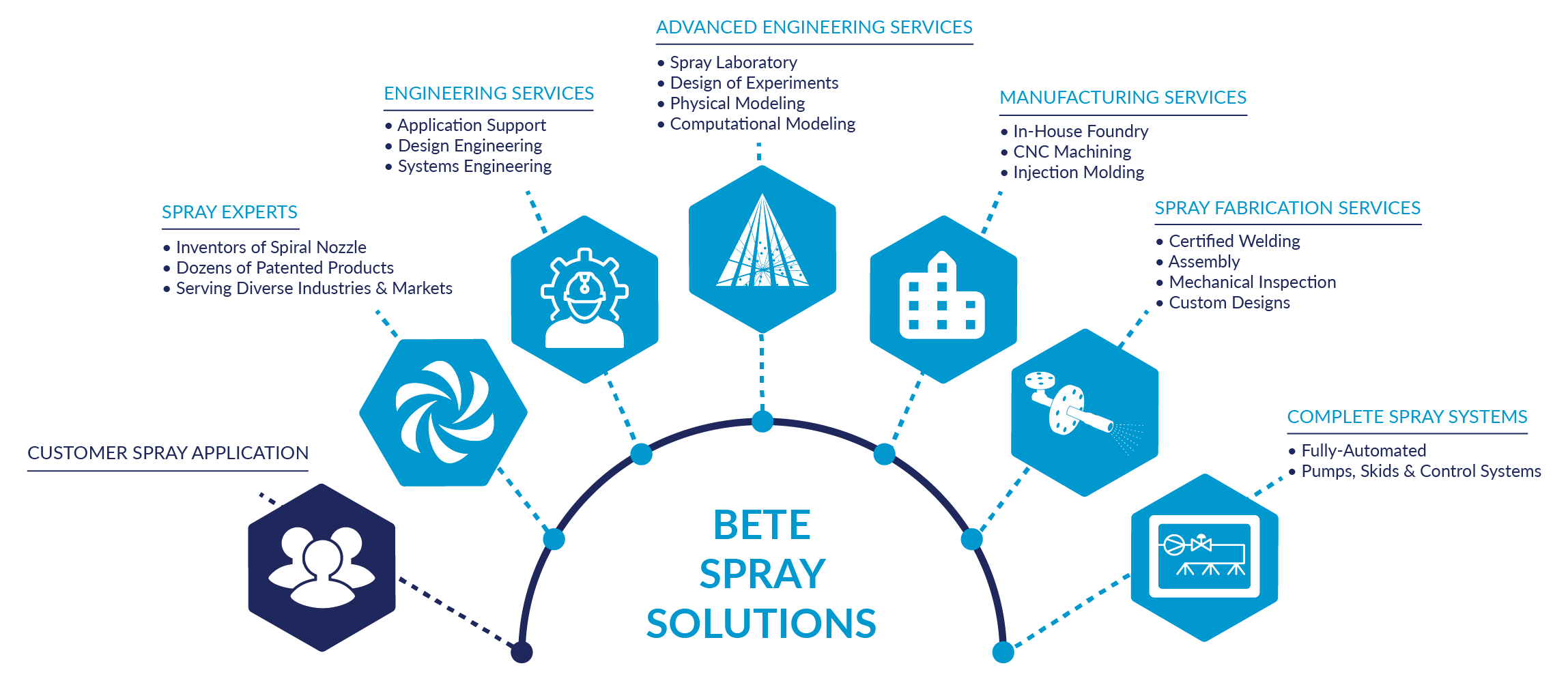 ---

Make Your Operation More Sustainable With the Right Spray Technology
At BETE, we aim to continually improve our sustainability initiatives and minimize the impact of our operations on the environment. Our spray technology supports many sustainable business practices by:
• Saving resources & waste
• Reducing air pollution & lowering toxic emissions
• Improving water quality
• Keeping our environment safe
BETE Can Perform Every Procedure In-House From Casting & Machining to Assembly
Our state-of-the-art manufacturing facility is proudly located in Greenfield, MA, USA. We utilize various manufacturing processes to produce standard nozzles and custom spray solutions for specific application requirements. Many industries trust BETE to supply completely fabricated assemblies or spray systems because:
• BETE is the only nozzle manufacturer with a complete in-house investment casting foundry
• We keep a variety of standard and exotic alloys in stock for quick delivery
• Our welders are fully qualified to ASME B & PV Code Section IX
Optimize Your Spray Performance With Engineering, Research, Testing, & Modeling
The spray engineering group works with all of BETE's resources to help design your process or resolve your spray problem. BETE offers Advanced Spray Engineering Services to solve more challenging and critical problems. These include, but are not limited to:
• Indoor & outdoor testing facility
• Physical model testing
• Prototyping
• Computational Fluid Dynamics (CFD)
• Droplet size & liquid distribution measurement
Exceptional Customer Service Before, During, & After the Sale
AT BETE, we provide everything from design, engineering, manufacturing, and testing to outstanding customer service. We are responsive to our customer's needs and always go the extra mile to help you exceed your requirements. When you choose BETE, our team of experts will be there from start to finish - even post-sale whenever you need support.