FIRE PROTECTION INDUSTRY CASE STUDY
Solving removal of difficult residue build-up in water storage tanks
Tank cleaning applications have different requirements, including a variety of tank sizes and soils to remove. Manual cleaning is typical, but automated processes with a specialized spray device have proven successful. Selecting the proper tank cleaning nozzle for your application will give you the best results.
Residue Build-Up Inside Water Storage Tanks
A fire services provider contacted BETE to inquire about an automated tank cleaning solution for their fire water storage tanks. Over time, residue had built up inside the tank walls, and manual cleaning with power washers was not providing satisfactory cleaning results.
The tanks were large and measured 10m diameter x 11m high, requiring a spray device to reach these distances. Because the tank's wall was thin, spray devices with too much power could cause damage. The available pressure was only 58 psi, and water consumption was also a concern.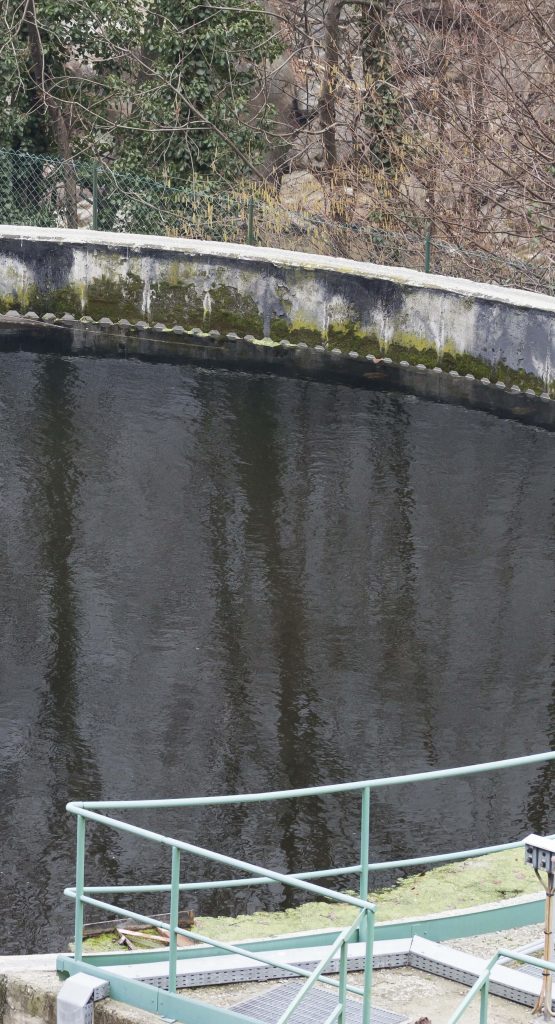 The BETE HydroWhirl® Orbitor
After reviewing all the criteria and considerations, BETE recommended the HydroWhirl Orbitor (HWO) rotary tank cleaning nozzle for this application. The HWO runs on low pressures of 45 psi while consuming only 32 GPM. The four-nozzle configuration rotates on two axis points, ensuring that every surface area of the tank is touched.
Since these were substantial storage tanks, engineers proposed mounting the HydroWhirl Orbitor on a 13 ft pole fixture. This positioning provided the spray distance needed for cleaning and offered just enough impact to avoid damaging the tank walls.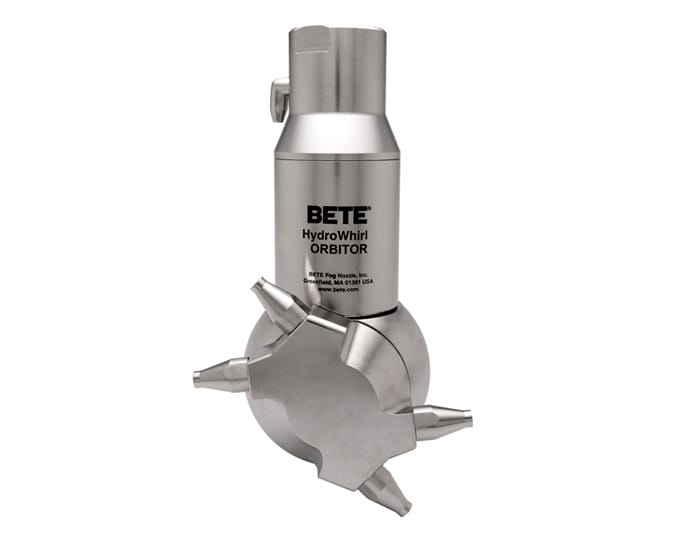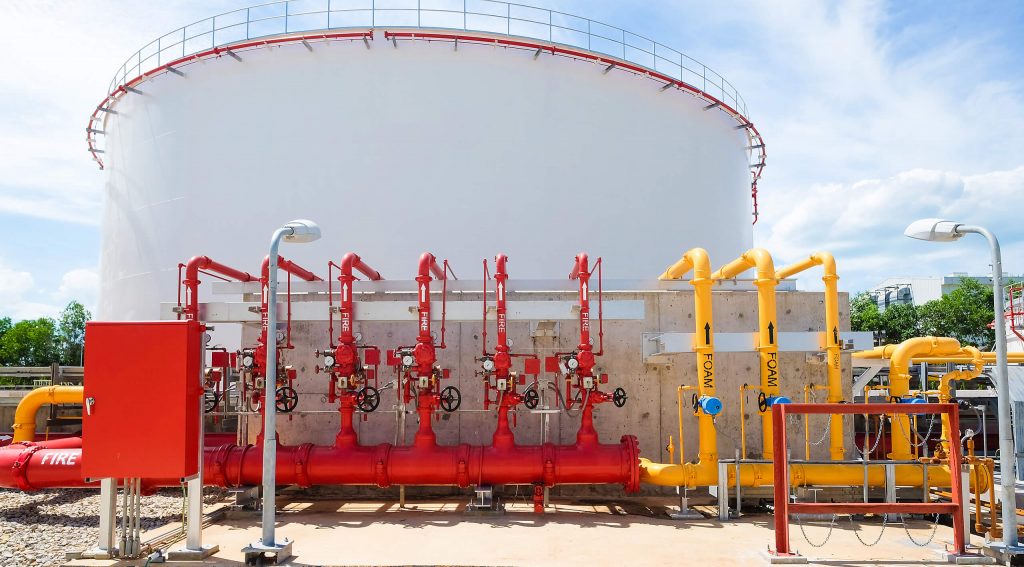 ADVANTAGES OF THE BETE HYDROWHIRL ORBITOR®
High impact jets, orbital wash
Self-cleaning, self-lubricating
360° wash pattern
Minimal moving parts, easy maintenance
Operates on low pressures 45 to 145 psi
Low flow rates of 21.5 to 160 gpm
Removes difficult soils
Reduces water consumption and cleaning cycle times
There are many benefits to automating your tank cleaning process. It is much safer than manual cleaning, which puts workers at risk for injury. Automated tank cleaning results are precise – unlike manual cleaning, which can be inconsistent. Rotational tank cleaning devices require less time for cleaning and consume less water in the process.
The HydroWhirl Orbitor is proven to be successful for many tank cleaning applications, and by automating your cleaning process, you will gain measurable returns on your investment.
Ready to improve your process with BETE Spray Technology?
Contact our spray experts to find the perfect nozzle for your application.